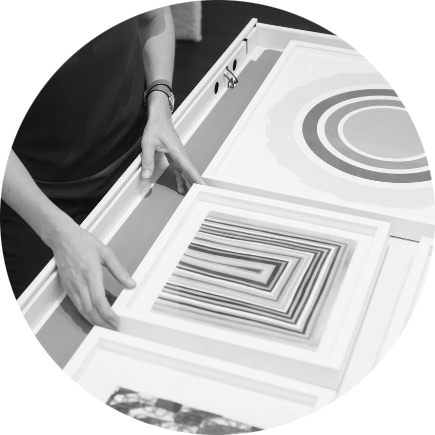 At Hilyard Art Advisory, we have cultivated long-standing relationships with an international network of trusted resources and experts with whom we consult daily; doing so ensures our clients receive the most current and reliable information available as they make important decisions about their collections.
Our wide range of services can be tailored to meet individual needs.
Buying Art
Whether it's a single piece or several, HAA facilitates and streamlines the acquisition process by assisting clients in identifying works for their collection, sourcing and securing pieces from different outlets and researching works, artists, sources and values.
Selling Art
When a client is ready to part with a piece from their collection, HAA will assess the piece(s) and determine the best de-accession strategy.
Valuations
In lieu of a formal appraisal, HAA can provide clients with an assessment of artwork to determine its value.
Fine Art Appraisals
Appraisals, in accordance with the Uniform Standards of Professional Appraisal Practice (USPAP), are available for estate planning, insurance and charitable donations
Collection Management
Our registrar services include the organization, cataloguing and upkeep of an art collection inventory.
Provenance Research and Assistance with Authentication
Research services are available to determine the history of a work of art, its creation, context, authenticity and origin.
Conservation Assistance
Proper conservation is crucial to maintaining and enhancing the value of a piece of artwork. As such, we connect clients with specialists suited to their specific needs, assist in obtaining estimates and advise on the best method(s) of conservation for each piece.
Framing and Installation
Framing acts as a conservation tool, protecting mediums from damage such as sun fading and water. HAA offers framing and framer recommendations and can oversee the framing process from start to finish.  We facilitate and oversee installation services and maintain a list of trusted professionals and craftspeople who specialize in building custom cases and stands.
Storage and Shipping
We handle the shipping, insuring and proper storage of all works of art to avoid risk of damage or loss. We ensure pieces are well kept and well documented.
Art Education and Guided Tours
We offer clients access to lectures year-round and provide guided tours through museums, galleries, studios, private collections and major art fairs. Tours can include behind-the-scenes and/or early entry, which allows clients to view shows, exhibits and artwork not yet accessible to the general public.